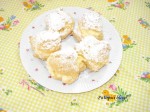 Najdraži su mi recepti koje sam spremala toliko puta da je originalni papir promijenio boju

Jedan od takvih su Biljine princes krafne. Prvi put sam ih probala kad smo radile zajedno i mislila sam koja je spretnica. Princeze su kultni kolač, a sama tada nisam imala previše iskustva u slatkim receptima. Kad sam se usudila napraviti ovaj kolač i uspio mi je – zauzeo je prvo mjesto po uspješnosti i broju izvedbi . Mislim da je najviše puta prepisan od strane drugih kuharica.
Osnovna mjera: šalica 2dl
Izrada:
U teću ( 1-1,5 l) ulijte 1,5 šalicu vode, pola šalice ulja, te pustiti da provri; dodati 1,5 šalicu oštrog brašna. Miješati na tihoj vatri dok se smjesa izjednači i zgusne. Potpuno ohladiti.
Dok se tijesto hladi posebno mikserom umutiti čvrst snijeg od 4 bjelanjka uz dodatak malo soli.U smjesu dodati žumanjke jedan po jedan i izmiksati; u to dodavati rukom ohlađeno tijesto i stalno miksati dok se ne dobije ujednačena masa.
Lim samo malo posuti brašnom. Vaditi kuglice tijesta veličine zelenog oraha (oko 20 kom ili više ako volite manje krafne). Staviti peći u zagrijanu pećnicu na 200°C i ne otvarati 35′. Isključiti i držati još 5′ u pećnici. Lim potom izvaditi i pustiti da se krafne ohlade.
Fil: Izmiješati 3 žumanjka s 5 velikih žlica šećera, 2 kesice vanilin šećera. Potom dodati 5 velikih žlica brašna (najbolje oštrog). Sve to sasuti u 0,5 l mlijeka, te skuhati u gustu kremu. Čim je krema kuhana, staviti posudu u hladnu vodu , (možete kuhati kremu u posudi s duplim dnom) dodati čvrst snijeg od 3 bjelanjka s 3 žlice šećera. Izmiješati lagano da se fil ujednači. Hladiti u vodi (po potrebi je pormijeniti nekoliko puta).
Prerezati ispečene krafne i puniti ih filom, poklopiti. Na kraju posuti šećerom u prahu.
U slast!